From a little wool felt purse I made, a scanned image of a ghost. This is good to make if you can't sew with a machine. I can only hand-sew.
Free for Halloween, of course. Right-click to save. Hope you enjoy.
To make the purse, I sewed 2 rectangles of felt together, blanket-stitching the sides and adding a bead each stitch. Then I turned the top down about 1 inch and again stitched with matching thread to strengthen where I'd add the strap and to give some body to the top. Then I blanket-stitched some felt cut-outs to the front and added a braided shoulder strap of wool yarn. I should have stitched the cut-outs on BEFORE I put the two rectangles together, though.
The bats have seed bead eyes, and so does the ghost.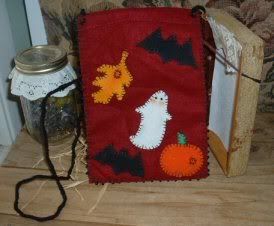 Still exhausted. Teaching the unteachable is distressing. Meanwhile, in the rest of the world, students these same ages, with many more burdens in their lives, would love the chance to learn.